2 Post Car Lift HP - 40 B3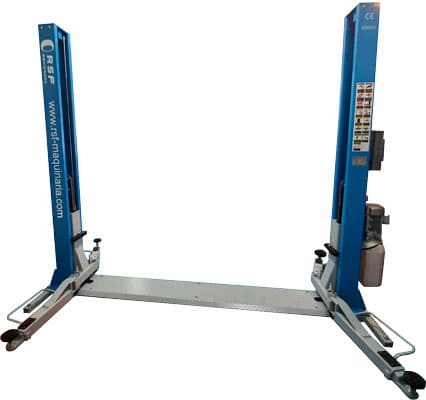 Contact Us by WhatsApp
Ask for your budget
Description:
Electro-hydraulic baseplate 2 post lift synchronize using steel cables. Safety devices and automatic lock release. Asymmetric arms with minimum height above ground of 110 mm. Track width 2.60 m and distance between columns 2.80 m.
Characteristics
Data sheet
Photo Gallery
Accessories
Capacity: 4.000 Kg
Maximum lifting height : 1,89 m.
Minimum lifting height 110 mm.
Track width: 2,60 m.
Automatic lock release.
Synchronization system by steel cables and limit switch for safety.
Asymmetric extendable lifting arms with adjustable sup-ports.
Robust columns made in steel 5mm.
Mechanical safety operating by the electromagnet.
Double spindle (from 0 to 85 mm.).
220V plug in the control box.
Optional:
Van Extenders for 70 and 110 mm.
"U" means arm support.