Parking Elevator 4 Columns AP - 400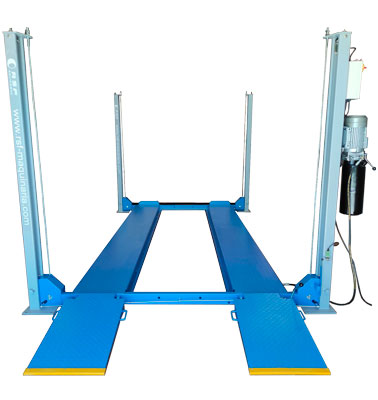 Contact Us by WhatsApp
Ask for your budget
Description:
The AP-400 is a 4-column parking lift that allows you to park 2 vehicles in the space where previously only one was parked. This parking lift occupies only the space of a standard parking space, the installation does not need work.
Characteristics
Data sheet
Photo Gallery
Video
Capacity: 3600 kg.
Lifting height: 1800 mm
Total height: 2130mm.
Total width: 2670mm.
The hydraulic motor unit provides a safe descent.
Manual unlocking system in one of the columns
Automatic block system by mechanical anchoring in each of the columns
Safe control box DC24V
Pre-adjusted hydraulic pressure to prevent the lifting of vehicles of greater weight than allowed.
Equipped with upper and lower limit switches.
Optional:
Mobile kit for moving 4 pieces.
Plastic oil collecting tray.
Sheet metal oil collecting tray.
Central jack 2500 kg with manual pump.
Customers who bought this parking lift also saw: