Tablet Vehicle Diagnostic Tool PS90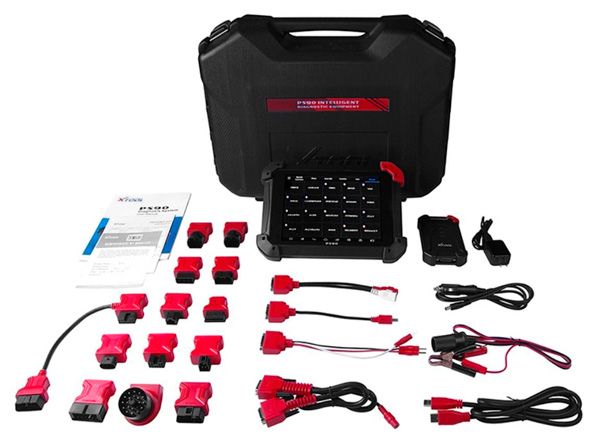 Contact Us by WhatsApp
Ask for your budget
Description:
The multibrand diagnostic machine PS90 is a high-end tool diagnosis with a new style, developed by Xtool based on the Android system, which offers great speed and multitasking capabilities. This machine diagnosis covers a wide range of vehicles Americans, Asians and Europeans, which makes it the best solution for diagnosis in workshops.
Optional: extension to truck brands and oscilloscope.
Characteristics
Data sheet
Photo Gallery
Content machine diagnosis multi PS90
Conexiones: Vista superior

CONNECTION OTG
3.0 CONNECTION PORT CAR
HDMI CONNECTION
BUTTON OFF-ON
Side view

CONNECTION AUDIO
FLASH CARD
USB CONNECTION
Briefcase
Complete connector kit providing the machine qualities of multibrand diagnosis.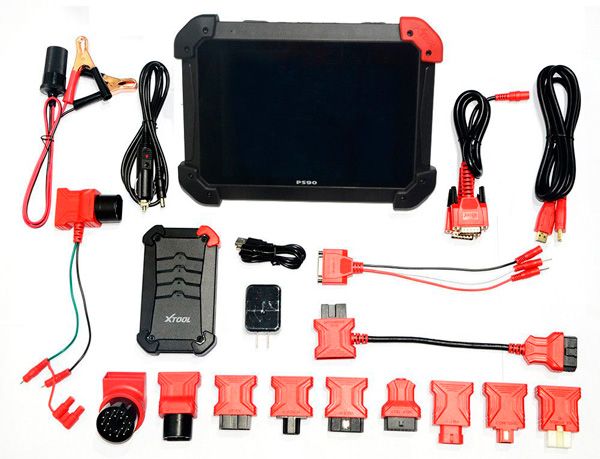 Package List:
PS90 Tablet
VCI BOX
Connectors:
MAZDA-17R
KIA-20
FOR BMW-20
HONDA-3
KIA HYUNDAI-10
OBD2-16
SELF TEST(OBD16)
TOYOTA-17
NISSAN-14
UNIVERSAL-3
FIAT-3
AUDI-4
SUZUKI-3
CITROEN-2
MITSUBISHI 12+16
WIRE HOME USB3.0
Power Adapter DC 5V - 2.5A
Micro USB Charger Cable
Battery Clipper
Car Adapter
Quality Certificate
User Manual
Software
Android OS open source, fast boot and multitasking navigation is easy and intuitive to find what you need quickly and easily.
US extensive vehicle. coverage, Asian, European, Australian and Chinese.
complete code capabilities, real-time data, performance tests, etc.
Data Manager based on cloud saves time, scanner data records and technical notes.
Remote support for practical demonstration, training and increased customer satisfaction.
Automatic updates of new versions of software via WIFI.
Basic functions
Complete diagnosis of all vehicle systems with data recording in real time at any time, analog format as a graphic, screenshots.
Internet connectivity, WiFi, Network and USB so you can synchronize it with your PC or printer to get the data immediately.
Reading and clearing error codes, component activation, adjustments and coding of ECU.
Special functions
Programming keys and PIN extraction CODE.
Mileage correction, TPS, EPB-Electric Brake Service, EPS-calibraciónAngulo direction, TPMS-Reset inflating wheels, DPF-particle filter, reset by replacing battery, reset service.
Language Support: Traditional Chinese, English, Chinese, Russian, Spanish, German, Italian, French, Portuguese, Polski, Dutch, Arabic, Norwegian, Persian
Applications Highlights: TEAM VIEWER, XCLOUD, remote assistance, reporting and online help report potential problems Central XTOOL
Optional: Extension for trucks, Auto Data online and two-channel oscilloscope
Hardware
Operating System: Android 4.4.4
Processor: Rockchip 4 Core, 1.6GHz, 1GB RAM memory, 12GB of internal memory and 2GB onboard, plus 16 GB expandable via external card
Display 9.7 inch LED, 1024x768
Connectivity cell: 3G
Camera (rear): 5.0 Megapixel
Sensors: gravity Accelerometer, Ambient light sensor
Input / Output Audio: microphone, speakers
Power and Battery: 16000 mAh, 3.7 V, lithium polymer battery
Power Consumption: 6.0W
Operating Temperature: -10 to 55 degrees
Storage Temperature: -20 to 70 degrees
Size: 300 (11.81 ") x 220 (8.66") x 50 (1.97 ") mm
Camera (rear): 5.0 Megapixel with Lantern
Weight: 10 kg full Lot, Tablet 3kg
Accessories VCI connects wirelessly to li unit principalvía bluetooth or data cable.
8-10 hours of continuous operation, and auxiliary audio ports.