Tire changer with support arm DT-704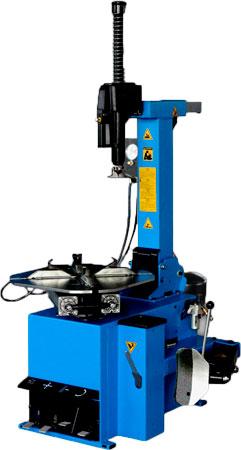 Contact Us by WhatsApp
Ask for your budget
Description:
Automatic tire changer tires for wheels up to 22 'outside and 24' interior, equipped with support arm 3 points for run-flat wheels and low-profile.
Characteristics
Data sheet
Accessories
Main rocker arm assembly and fixing pneumatic radial and vertical separation.
Powerful bead breaker equipped with lung aluminum prevents oxidation due to ambient humidity (80% unlike machines carrying iron lung).
pneumatic arm assembly for simple and fast.
lubricator-separator system, lubricates the air separates oil and water entering the air.
Plato tensor graduated with a margin host up to 20 'outside and up to 22' interior.
Plate with four claws autocentrantes actuated by two pneumatic cylinders, for gripping the wheel.
Rotating the dish by 2-speed electric motor.
Ergonomic foot pedals that facilitate assembly and disassembly work.
plastic mounting for the protection of aluminum rims.
Parts and accessories available at all times.
A tire changer for today's workshop.
Devices of mechanical and electrical safety in accordance with CE standard.
1 year warranty.
Optional:
Arm 3-point support for mounting and dismounting of the run-flat wheels.
A plastic aluminum wheels.
for motorcycle wheels.
Kit claw motorcycle wheels.
Cases Plastic metal nails.
Cases plastic claws.
Removable lever and plastic case.
Mordaza for run-flat wheels.