Tire changer DT-90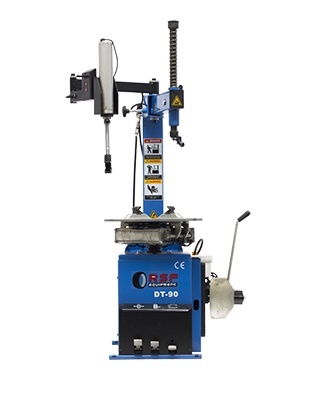 Contact Us by WhatsApp
Ask for your budget
Description:
Semi-automatic tire changer tires for wheels up to 20 'outside and 22' interior, designed for mounting and dismounting wheels car, van and motorcycle.
Characteristics
Data sheet
Accessories
Main arm mounting flag.
Powerful bead breaker equipped with lung aluminum prevents oxidation due to ambient humidity (80% unlike machines carrying iron lung)
lubricator-separator system, lubricates the air separates oil and water entering the air.
Powerful engine depending on the chosen voltage: 220V or 380V
Plato tensor graduated with a margin host up to 20 'outside and up to 22' interior.
Plate with four claws autocentrantes actuated by two pneumatic cylinders, for gripping the wheel.
Rotating the dish by electric motor.
Ergonomic foot pedals that facilitate assembly and disassembly work.
plastic mounting for the protection of aluminum rims.
Parts and accessories available at all times.
A tire changer for tire workshops nonspecialists.
Devices of mechanical and electrical safety in accordance with CE standard.
1 year warranty.
Optional:
A plastic aluminum wheels.
for motorcycle wheels.
Kit claw motorcycle wheels.
Cases Plastic metal nails.
Cases plastic claws.
Removable lever and plastic case.
Mordaza for run-flat wheels.