Welding and Cutting Equipment
Manual arc welding with coated electrode or MMA (manual metal arc welding), also know as Shielded metal arc welding (SMAW) is suitable for vertical seal, has high penetration in all positions and gives reasonable mechanical properties.
Arc welding has certain advantages over other methods.
It is faster due to the high concentration of heat generated and therefore produces less distortion at the junction.
In some cases fusible electrodes, which are filler metals in the form of rods or flux coated bare used; in other cases a refractory tungsten electrode is used and the filler metal is added separately.
In the manufacture of vehicles it is commonly used li resistance spot welding for assembling sheet metal parts of the body. This welding system is also used on numerous occasions to repair, because it is a clean welding and can be easily removed using a despunteadora.
Welding to be effective must take into account factors such as:
Pressure : It exerts adequate pressure, about ten kilograms per square millimeter depending on the thickness and the material to be welded.
Intensity : The intensity of the current must be high without actually merging the material.
Time : The welding time must be short and depending on the thickness of the material.
The filler material need not is an advantage of this type of welding.
This welding is fast, clean and strong.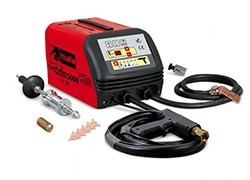 Spot welder Digital Car Puller 5500
Output current: 2,500 A
Pot. 50%: 1.8 kW
Pot. max .: 11 kW.
Power: 400V 2PH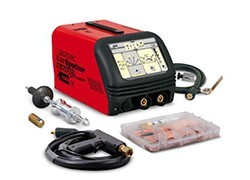 Spot welder Digital Spotter 5500
Output current: 3,000 A
Pot 50%: 2.8 kW
Thickness max. of PUNTEDO: 1.5 + 1.5 mm
Power supply: 230V 1PH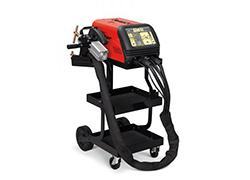 Spot welder Digital Spotter 7000
Output current: 4,500 A
Pot 50%: 6.7 kW
Thickness max. of PUNTEDO: 1.5 + 1.5 mm
Power: 400V 3PH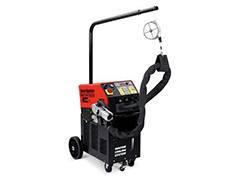 Spot welder Inver Spotter 12000
Output current: 11,000 A
Pot 50%: 4.8 kW
Thickness max. of PUNTEDO on 2 sides: 3 + 3 mm
Power: 400V 3PH
Aspects to consider when choosing TIG welding
The best TIG machine will allow the widest range of amps at the lowest cost is greater Ccuanto amperes range that allows the machine, the greater the variety of possible materials and thicknesses of welding.
It is important to consider that the system of the torch is simple and rapid change.
The stability of the welding arc below 10 amps, is another parameter to consider when choosing the TIG machine model.
TIG welding machines with technologies that favor stability should be preferred.
Welding other materials beyond or stainless steel, TIG machine must provide options both DC (direct current) and AC (alternating current)
The temperature control is another critical factor in TIG welding.
NOT choose only for the price, this may affect higher costs in the medium term. The best alternative is to choose by performance depending on the specific tasks envisaged.
| | |
| --- | --- |
| Advantage | Disadvantages |
| High quality welds | Lower rates of deposition |
| Welding a wide range of metals | It requires a high level of skill of the operator |
| It does not produce spatter or slag welding | It emits a higher level of UV rays |
| Allows welding in all positions | It requires a good eye and a steady hand to achieve adequate levels of quality |
| It allows controlled penetration weld a wide range of thicknesses including those very fine | The teams are usually more expensive and sophisticated |
| High quality welds | Lower rates of deposition |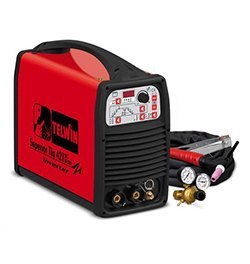 Welding machine TIG Superior 421
Adjustable Arc: 10-350 A
Adjustable Power: 0-8 / 8 to 14 kW
Electrode: 1.6 to 6 mm
Power: 400V 3PH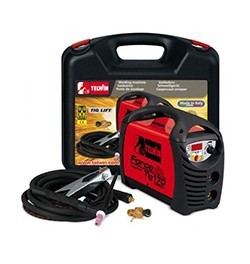 Welding machine Force Tig 170
Adjustable Arc: 10-150 A
Power: 4.1 kW
Electrode: 1.6 to 4 mm
Power supply: 230V 1PH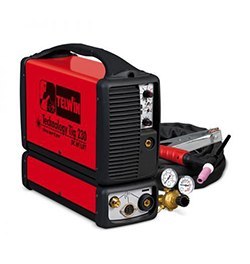 Welding machine Technology TIG 230
Adjustable Arc: 5-220 A
Adjustable Power: 0 to 3.6 / 3.6-5.5 kW
Electrode: 1.6 to 3 mm
Power supply: 230V 1PH
Main advantages of MIG welding:
The arc is always visible to the welder.
It is very easy to handle.
High performance.
Allows automation.
The welder can weld from any position and almost no clean up.
has a high deposition rate or more rate at which the metal is deposited on the weld.
The welds are longer without pausing and early, increases productivity and produces a smoother weld.
The plasma cutting benefits include ease of use, higher quality cuts and higher travel speeds.
What is plasma cutting technology?
Plasma cutting is a process that uses a high velocity jet of ionized gas that is sent from a constricting orifice The high speed of ionized gas, which is plasma, conducts electricity from the plasma torch to the workpiece. The plasma heats the work piece, melting the material. The high velocity flow of ionized gas mechanically blows the molten metal, breaking the material.
What I can use plasma cutting?
Plasma cutting is ideal for steel and non-ferrous material of less than 1 inch thick. Plasma cutting special alqunas really shines in such applications as cutting expanded metal. And compared with the mechanical means cutting, plasma cutting is usually much faster and can not easily make linear cuts.
Plasma Cutting Interprisse 160 HF
Power: 25 kW
Cut: up to 45 mm thick
Power: 230-400V 3PH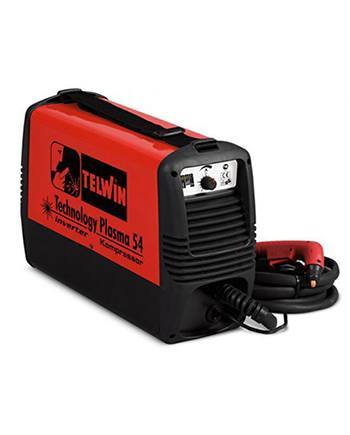 Plasma Cutting Tecnology 54 Kompressor
Power: 4.5 kW
Cut: up to 10 mm thick
Power supply: 230V 1PH